Pung Chang Cave + Khoa-Lak Safari Trekking + Waterfall.

To get refreshed after working hard all year. We take you back to the basics of nature. This one day trip starts from your hotel in Phuket (the Tourism City) and we take you to the area of Green, Phang-Nga.

In the program; visit the unseen magic place - Pung Chang Cave, visit the hidden Waterfall in the Safari- Lampee Waterfall. Moreover, we will take you to discover an area which is called "The Jungle meets the Sea '' at the World Class area- Khao-Lak Beach, Lumroo National Park.

"If you like to see the unseen beautiful places, this is your real answer."
At Lumpee Waterfall is a nice one which is hidden in the thick safari of the national park, where you can swim or look at nature.
Pung Chang Cave; We discover 17 Unseen Nature Points in the Cave by Canoeing + Bamboo Rafting and Walking.
The Safari Trekking Route on the Program is not too difficult and not too easy. Everyone can pass the trekking walk.
SRP: (Save of Returning Point) On the half way of trekking, we found a small unseen beach which is hidden in the place we called "The Jungle meets the sea."
There are so many interesting things to study in the "Safari of National Park."
Brief Programs
| | |
| --- | --- |
| 08:00 AM: | Pick Up from your hotel by "Air-Condition Minibus" |
| 09:20 AM: | Arrival the "Punchang Cave" Set the Equipment for Cave Discovery and start. |
| 11:00 AM: | We arrive "Waterfall, Swimming, Discovering and Relaxing. |
| 13:00 PM: | We serve Thai Food for Lunch at "Safari Restaurant" |
| 14:00 PM: | Start to Jungle Walk. |
| 14:30 PM: | Arrival the "Rest Point" It is a nice beach hidden on the Safari. |
| 15:00 PM: | We start to walk again and pass the National Park out to the Road. |
| 16:30 PM: | Back to Phuket. |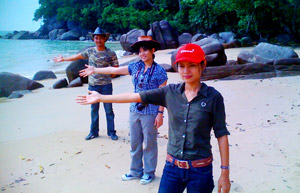 ** Make the booking Now - 30 November for any time using, get the special Price is just
    -  4,300 Baht/person
Book by now, you can get
free of charge transfer In
(Airport-Hotel)
Remark: This trip is Private Trip (Minimum 2 People and Maximum 6 People Booking)